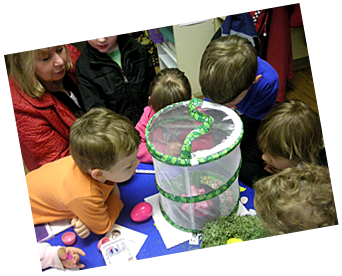 Any WEATHER RELATED CLOSURE or DELAY info will be posted right HERE by 5:30 AM the day of the event
Bud to Blossom's programs engage children in hands-on, active learning that nurtures creativity and develops independent thinking and problem-solving skills. Children find us a welcoming, engaging and safe place to explore the world around them. Learning becomes fun and exciting, and the love of learning the child develops here carries him or her forward, enhancing later success in school.
We have programs for:
"Leaving your child in someone else's care on a daily basis is no small decision. Yet we have found that not only is Amanda in the most capable of hands, but that she is also in a loving and stimulating environment. She is a better rounded child because of the consistency of care and nurturing she receives at Bud to Blossom. Thank you for the very important gift you give our community." -Susan

"I just want to say that Bud to Blossom is a phenomenal school.  My only regret is that they don't, at least, go through the 3rd grade!!!  I have taught school for over 25 years and never have I seen a program that was as successful as Bud to Blossom.  Every school that I have contacted beyond Bud have said that the students that leave Bud to Blossom are ready and prepared for the 1st grade and most of the time they use the word "exceptional".
Thank-you Bud for working with James.  You're the greatest!!!" -Rick
We deliver to and pick up from the following Salem schools:
Morningside                                                                                                                                                                                         Lee
Liberty                                                                                                                                                                                             Wright                                                                                                                                                                     
Pringle
Candalaria
Salem Heights
Schirle
Sumpter

Explore this site to learn more about how Bud to Blossom can benefit your child. Have questions or want to schedule a visit?  Call Shannon at 503.581-0707.