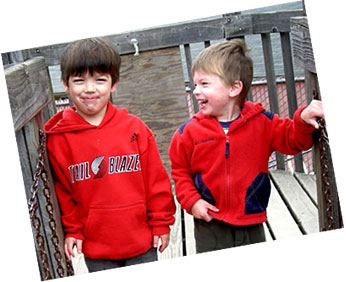 Bud to Blossom School was founded in 1980 by Lyn and Ed Sigurdson, who had found that the discovery approach to learning–as opposed to the standard drill-and-repetition style of teaching–is the way children learn most effectively. Using the discovery method, kids love to learn, which in turn fosters a love of learning for life.
There are approximately 30-50 children in our classrooms or on the grounds at any given time, separated into age-appropriate classes. Our facility was designed specifically for Bud to Blossom's program, and includes both indoor classroom areas and 15,000 sq. ft. of outdoor play space, featuring play structures, an extensive tricycle track, sand play area and gardens. We have the only covered outdoor preschool play space in the Salem area, enabling children to have outdoor playtime even during rainy weather.
Bud to Blossom is a training base for other schools. Both staff and students come to observe us as part of their training and education.
Our Method
We teach academic material through self-discovery instead of a memorization process, in an atmosphere of guided play. Learning is most effective when a child figures something out for himself, because the things he discovers, he will remember forever. Our teachers provide the opportunity, set the example and provide a positive, "can-do" learning atmosphere and materials.
Discovery learning increases overall achievement because students are learning skills, rather than facts. Each child develops a learning style, is reached at his or her own level, and is challenged to stretch to his or her fullest potential. Children are joyfully encouraged to grow academically, socially, physically and emotionally, without pressure.
Our Staff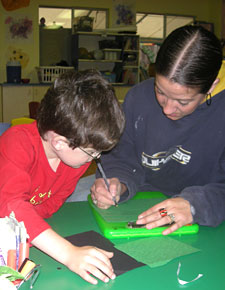 We choose instructors with a joy for life and learning, creativity, flexibility and unselfishness. Our staff really loves our students, and communicates with parents every day. All of our teachers have taught preschool for 5-10 years or more. In addition:
Five of our teachers have degrees in Early Childhood Education.
Four of our teachers have bachelor's degrees in teaching/psychology.
All staff members are meticulously screened for background and personal qualifications.
Because we care about and invest in our staff, we have many longtime staff members. This means a consistent experience for your child. Parents bring child after child to our preschool, and most of our families have come to us through recommendations from other satisfied parents.